Welcome to the Chicago Society for Space Studies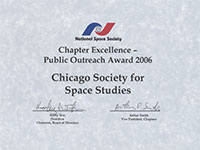 Winner of the following National Space Society awards:
2017 NSS Chapter of the Year Award
2015 NSS Chapter Special Merit Award for Speaker Outreach
2014 NSS Chapter Special Merit Awards for Speaker Outreach
2008 NSS Chapter Excellence Award for Public Outreach and Education
1996 NSS Chapter Meritorious Service Award
1995 NSS Chapter Meritorious Service Award
1994 NSS Chapter Special Merit Award for Spaceweek Activities
1994 NSS Chapter Special Merit Awards for Public Events
1993 NSS Chapter Award For Conducting Spaceweek Events
1993 NSS Chapter Award For conducting Public Events

The Chicago Society for Space Studies has been actively promoting the exploration of space and educating the public about space exploration and the solar system since 1977. For more information about our organization, its mission and officers, visit the About CSSS section of our web site.
As a pro-space organization, the CSSS has sponsored the appearance in Chicago and the surrounding suburbs of astronauts, a cosmonaut, and a variety of space industry professionals, as well as producing our own original programming.
To find out about our upcoming events, as well as a number of our past programs, visit the Activities section of our web site.
As a part of our educational mission, the Chicago Society for Space Studies maintains a Speakers Bureau. Our speakers have provided space exploration related presentations to youth groups, astronomy clubs, libraries, museums, and schools in the Chicago area. If you have a group that would like to learn more about space exploration, please see our Speakers Bureau page for details.
To find out how you can help the Chicago Society for Space Studies promote space exploration in the Chicago area, please check out our Membership page.
No space site can be complete without some space related resources. To that end we have created a Articles section for our visitors.
We hope that you find our web site useful and that you will consider joining us in our efforts to educate the public about the many facets of space exploration, both human and robotic. We also suggest that you visit the web site of our parent organization: the National Space Society.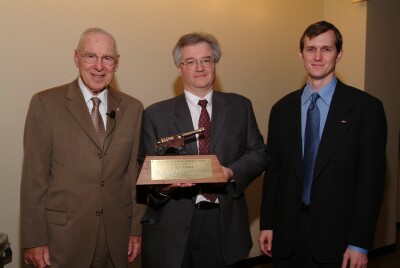 Apollo 13 astronaut Captain James Lovell, CSSS Vice President Jim Plaxco holding the NSS' Heinlein Award, and NSS Executive Director George Whitesides before the formal award ceremony at the Illinois Institute of Technology on June 12, 2004.